Weddings are always special, they symbolise new beginnings, sacred moments, togetherness – all tied in with rituals, love and blessings. Indian weddings have always been known for being elaborate, opulent affairs; and thanks to Bollywood, Indian weddings have only become grander than ever. The stress to look good right through the busy Indian wedding is enough to cause many breakdowns and cases of bankruptcy. To keep you stress free and look gorgeous for every event, we put together a list of 5 ways to shine without spending big bucks.
COLORS: Forget the traditional red, maroon and pink this season. Make a statement with the colours you choose, try sunshine yellow, gold, orange or purple. You could colour block two contrasting colours to create visual irony or go monotone from head to toe while playing with textures. A stand out colour in a sea of the common red's and pink's can be the easiest way to shine.
DUPATTA: If there was just one piece that you could buy this wedding season, I would recommend you invest in an exquisite dupatta. The dupatta, is a hardworking piece of Indian heritage, culture and fashion, which represents our traditions. It is draped over the head as a sign of respect, thrown over kurtas to bring life to plain kurtas and creating interesting drapes and over lehengas to create layering illusions. You could even join two dupatts together to turn them into a saree. Clearly, there is a lot you can do with a dupatta, making it a must have in any Indian wedding wardrobe
STATEMENT JEWELLERY: Instead of spending a fortune on small pieces of gold or diamond jewellery, which are bound to go unnoticed, buy one piece of jewellery which makes a statement and makes heads turn. Think out of the box when it comes to choosing this one piece of jewellery. Forget the bangles and necklase, instead consider a 'passa jhoomar' for your hair, an antique maang tikka, an elaborate waist belt or even the more modern head and body chains.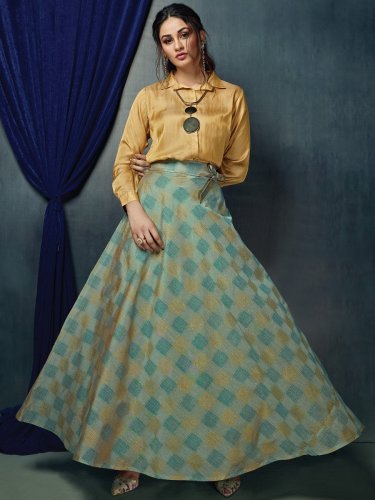 UNLIKELY PAIRS: Everyone loves a good surprise, and it stands true even when it comes to our clothing choices. An easy way to make a statement is putting unlikely separates together. Forget the saree blouse, wear the saree with a fierce crop top forget the lehenga's choli, pair the lehenga with a T-shirt, and forget the Kanjeevaram , wear a maxi dress with temple jewellery. A tiny change can go a long way, so just go ahead and make that change.
LITTLE DETAILS: It is the little details that pack the biggest punch, so pay special attention to them. Think beyond the clothes and jewellery, about the overall look that you are going for. If you need help in getting your wedding shopping list right, check out latest collection of ethnic wear on Textile Megastore.